Duties and Responsibilities
It is expected that that agreeing to the terms of the offer letter the staff at Finally Good IT, LLC. will manage the daily communications and operations of the campaign and respond to all aspects. The duties of the agreement will vary based on the wishes of the client, you. It is expected that you will be available for us to contact on specific issues and will be available for weekly team phone calls and meetings either in person or digitally. It is also assumed that you will work with all staff to communicate needs, and desires for the campaign and provide direction on the issues as to how we should frame a speech or script.
You are as involved as you feel you need to be from the lower levels of the campaign but anything being publicized that would need your approval, we expect to be able to hear back from you in a timely manner. Largely your role will be to be publicly presentable, available for staff needs and clearly communicate your schedule by way of using the platform and staff available for scheduling of events and honoring event commitments to the best of your ability. There are certain duties that only you can perform and those are direct asks for campaign contributions with some of the larger max level donors. Leveraging your personal contacts for contributions is something only you can really do. We have found it effective with non personal large donors having a special hosted call where you are introduced and get a "1 on 1" with the donor(s) where it is more intimate and then after a set allotted amount of time you leave the call and staff takes over pushing for the contribution.
It is expected for you to attend as many of the leadership meetings as possible if we are retaining staff for this campaign, and in the event we are not then it is expected that you make yourself available for engagement meetings to get regular status updates every two weeks and weekly to daily as the campaign seasons and momentum picks up.
The goal of this agreement is to take as much off your shoulders as possible. I know the headaches of a campaign and I am happy to shoulder those headaches for you so you can be the best you there is. I have learned to be selective of my clients for things like this and I am happy to say that I am very supportive of this move.
---
Proposed Budget
Budget ranged from $500,000-$1,000,000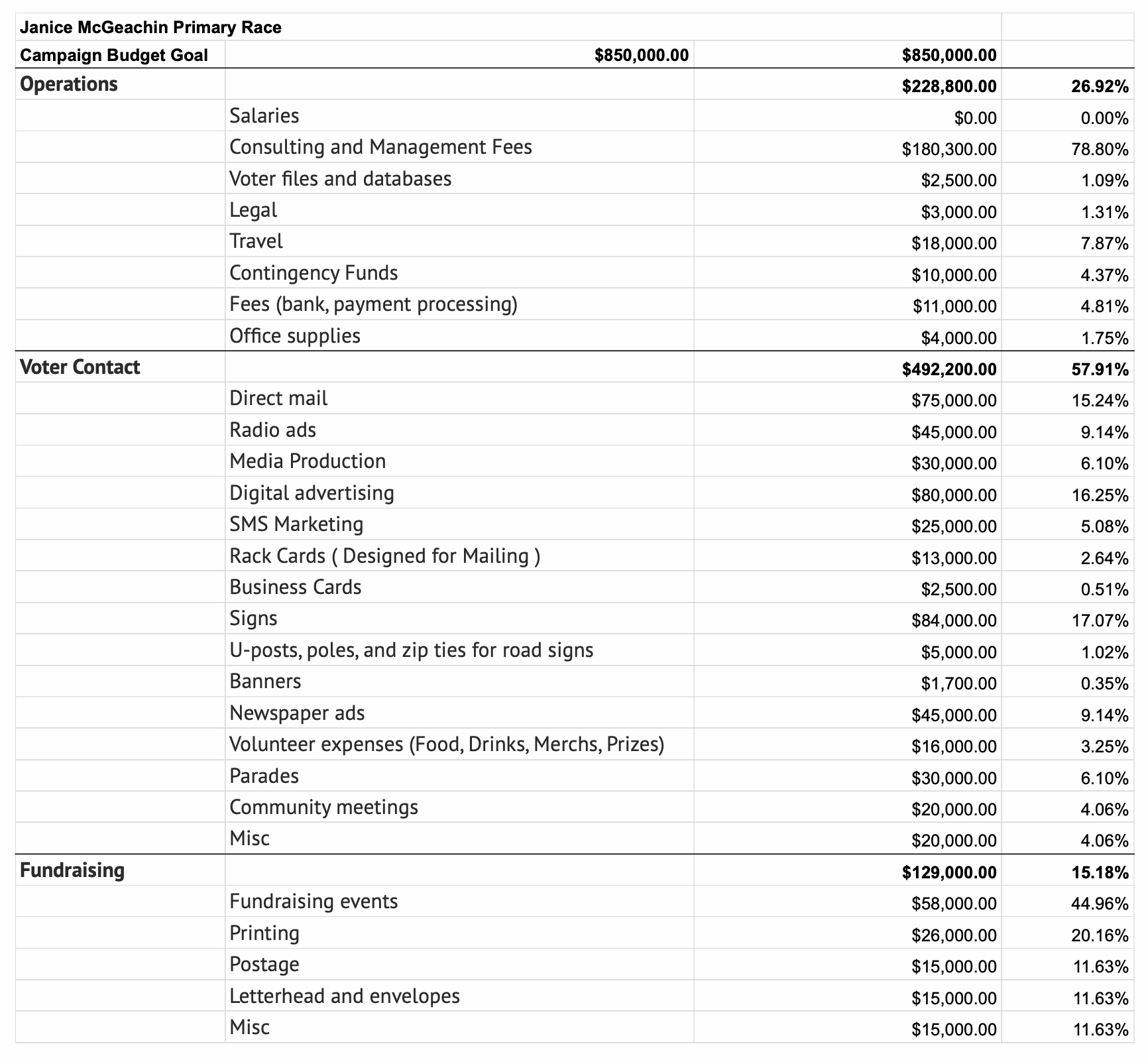 This is just the proposed framework and is built with the idea of rebranding and having to reprint all of your material. These are also expected to be absorbed over the expense of the campaign and no 1 category is expected to be depleted in a single month. This proposal includes the hiring of 3 dedicated staff for the campaign as well.